Personal advisory or chatbot - always with digital support
The last weeks and months have presented us all with sudden challenges: working remotely and still staying in close contact, closed offices and no personal meetings. But it quickly became clear: digital interaction does not mean impersonal and digitalization will continue to increase.
riskine works continuously on the further development of the modular "product toolbox", the Advisory Suite. This includes products for personal or remote advisory as well as for self-service (such as bots or applications in the portal).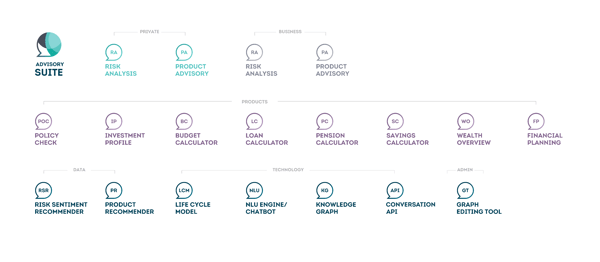 All the products in our Advisory Suite – for advising both private and business customers – can be flexibly combined and extended, depending on your wishes and areas of use. This is how we efficiently create your individual solution at the highest level. A big topic for us at the moment is the expansion of integration options for third-party products, which means an even wider range of solutions for you in the future.
The new Investment Profile - the most important instrument of investment advice
We all know how important and delicate the advisory path through the investment profile is. It decides whether the customer invests in a savings book or an equity fund, for example. So between negative interest and high yield & risk. An advisory area with a particularly large number of regulatory requirements and thus even more open questions and gaps. An area that is always in the field of tension between risk preferences, "financial education" and good advice. Our new Investment Profile meets these requirements and can do much more. Interesting? We would be happy to give you a short live demo of the new Investment Profile. Register directly for an appointment.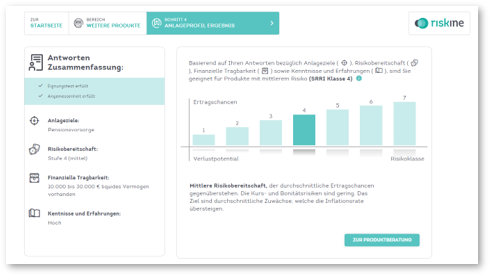 Collaborative approaches for your customer advisory service
You can use our advisory paths for remote advisory or as self-service tools. For example, you can send a link to your customers in advance, so that they can carry out some of the advisory services themselves in preparation for joint online advice with you. Alternatively, you can use the advisory routes, which are optimised so that your customers can watch and thus follow the entire process, as support during remote consultation, e.g. via screen sharing. Another option is to use our solutions as pure self-service tools on your platform, website, app or as a bot. If you would like more information about the collaborative solutions, please contact us: product@riskine.com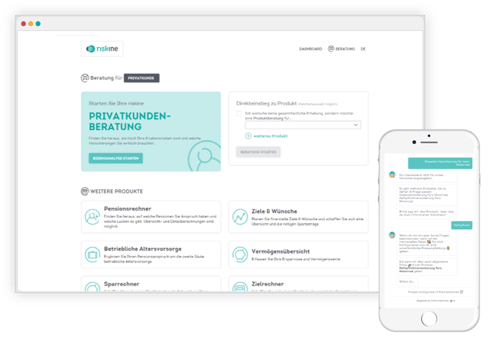 Did you know that our Bot-Engine can be flexibly integrated in your system and is, for example, perfectly prepared for inquiries on your website? The Insurance Bot has a great knowledge (FAQs) and can be combined e.g. with our risk analysis - as a preparation and transition to the product advisory. We would be happy to demonstrate the Chatbot to you in a live demo. Please contact us about this: product@riskine.com
It's all about sustainable, trustful customer relationships
In the end, all our solutions are aimed at enabling you to advise and reach your customers in the best possible way, even in challenging times. After all, we feel the same way you do: Customers should know that they are well supported at all times. Speaking of customers: one customer with whom we have been working on innovative solutions for three years now is Generali, which has awarded us a prize for our good performance and successful cooperation. We are very happy about that. Thank you very much for the exciting projects, the partnership and your trust! #happycustomers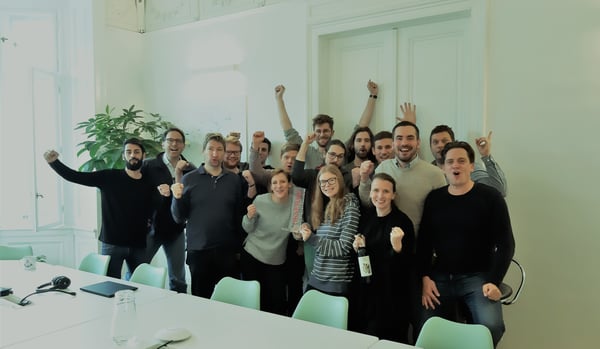 "The first remote onboarding of my life"
Another reason to be happy are our new colleagues, who have joined our team in the last weeks. This has confronted us with a new challenge: carrying out an onboaring process completely digitally was unusual, but together we have mastered it well. Many thanks to our new Key Account Manager, Melanie Tang, and to our new Web Developer, Isa Güven, for your dedication and openness towards new things. We are very much looking forward to shared drinks - even without distance.
We hope you are doing well and look forward to exchanging information with you by e-mail or telephone. But even more we are looking forward to meeting you live again soon.
Your riskine team
We are happy to hear from you: marketing@riskine.com
For even more insights you can also follow us on LinkedIn